One of the best-known Japanese cocktails is the Whisky Highball. Its ingredients consist only of whisky, ice and soda, but the Japanese turn its preparation into an art form. Precise stirring is required as they build up layers of hand-cut ice, whisky and soda in a glass. There are even rules about the placement of the bar spoon.
Yep, the Japanese take their cocktails just as seriously as their food.
Feel like a Japanese-inspired cocktail? Here's 10 cocktails we think you should try…
Hungry for more? Read: 5 Drinks to Accompany Your Japanese Meal
1. Ginza Spritz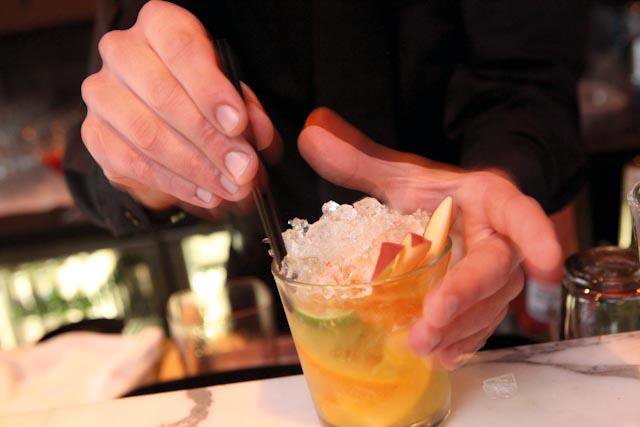 Are you one for the classics? This is the Kobe Jones take on the traditional Tom Collins, Japanese style. Yuzu-infused sake is mixed with Tanqueray Gin, muddled lemon and shiso, with a spritz of ramunade served over ice in a double old fashion.
You'll need:
15ml of Tanqueray Gin
15ml Passoa passion fruit liqueur
30ml Yuzu-infused Sake (Yuzushu)
30ml citrus syrup (1 orange, 1 lemon, 1 lime, a bottle of plum wine, 250 gm sugar, and a cup of water, boiled until it forms a syrup)
3 Shiso leaves and ½ a muddled lemon
a splash of ramunade
In a cocktail shaker with ice, combine liqueur, gin, sake, syrup, shiso leaves and lemon. Pour over a large rocks glass of ice and top with a splash of ramunade.
2. Sake Champagne Mojito
You read right – a sake champagne mojito. Sound's good, doesn't it? This perfectly smooth and delicious cocktail makes the ideal summer drink and, free of sulfites, it's comparatively free of hangover-causing congeners. The perfect drink to be served in a large pitcher when inviting friends over.
You'll need:
1 bottle of sake
1 bottle Extra Dry Champagne
1 large bunch mint leaves
Juice of 3-4 limes
6 drops of Liquid Stevia
In a large pitcher, muddle the mint leaves, stevia and lime juice together. Add the bottles of sake and champagne. Stir with a wooden spoon and then serve over lots of ice in mason jars.
3. Matcha Highball
The aromatic, rich astringent taste of matcha gives an alluring sweetness to a cocktail. Be warned though, matcha powder tends to clump when mixed with liquid, so be sure to mix well.
You'll need:
2 oz Japanese whisky (preferably Hibiki)
½ oz fresh lemon juice
½ oz honey syrup
¼ tsp matcha green tea powder
4 oz chilled club soda
In a cocktail shaker, combine the whisky, lemon juice, honey syrup and matcha. Shake vigorously and loosen any matcha that's stuck to the sides. Pour into a chilled, ice-filled highball glass. Pour the club soda into the shaker, swirl around to rinse and then add to the glass. Stir and garnish with a lemon wheel.
4. Tangerine Ginger Sake Sangria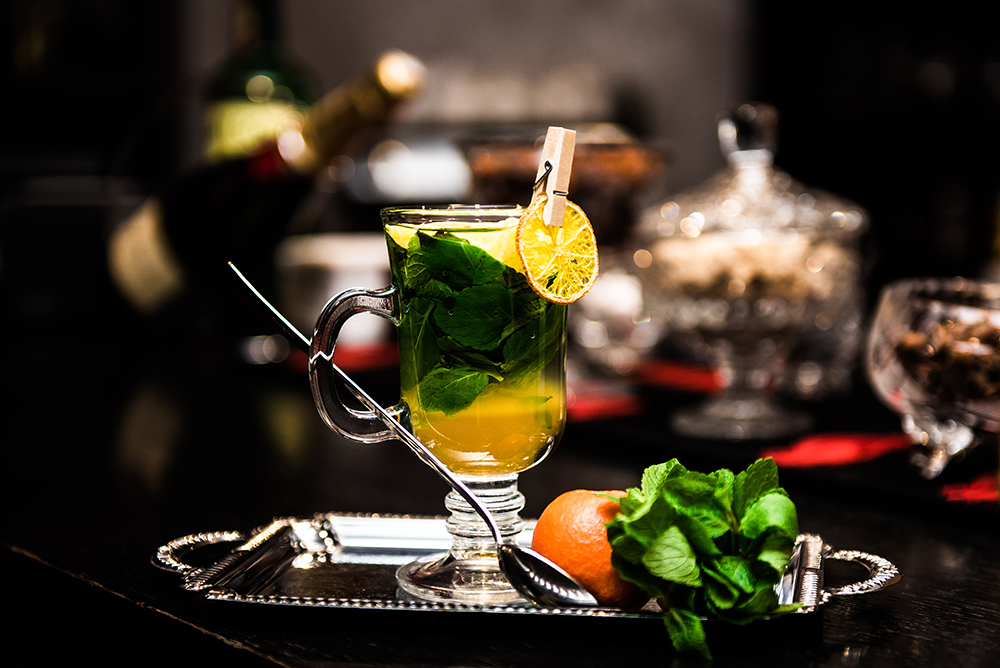 Sangria might be of Portuguese/Spanish heritage, but with these flavours, you can enjoy it with a Japanese twist. Bursting with fresh ginger, crisp tangerine and offering a refreshing minty finish, it's everything a mixed drink should be!
You'll need:
1 bottle Nigori Sake
1 cup sugar
1 cup water
½ cup fresh ginger, chopped
4 tangerines
¼ cup fresh mint
Bring the sugar and water to boil in a medium saucepan. When the sugar is dissolved, remove from heat and add the chopped ginger. Let steep for 30 minutes. Pour syrup into a pitcher through a fine sieve and discard the ginger. Chill in the refrigerator. Once chilled, thinly slice three of the tangerines and add them to your pitcher.
In a glass, add most of the mint and enough sake to cover. Mull the mint and add it to the pitcher, along with the rest of the sake. Add a whole lot of ice and while that gets the sangria nice and cold, wipe the rim of your glasses with a tangerine slice and twist the rims in sugar. Pour sangria into glasses and add a tangerine slice. Garnish with the remaining mint.
5. Asahi Red Eye
Red Eye is a beer cocktail featuring beer, tomato juice and fresh lemon juice. If you're feeling game, you can add a splash of vodka to that too. Inspired by the Bloody Mary, it was popularised by the 80's film Cocktails.
You'll need:
2 parts Asahi beer
1 part tomato juice
Juice of 1 lemon
Vodka (optional)
Build in a highball glass in the order given and then lightly stir.
6. Saketini
A portmanteau of "sake" and "martini", the saketini is an ingenious cocktail. If you want to take it a step further, try blending up some cucumber and adding it to an ice cube tray so you can pour your saketini over cucumber ice.
You'll need:
2.5 oz dry sake
1 oz vodka
Cucumbers (if making cucumber ice cubes)
Simply fill a cocktail shaker with ice, add the sake and vodka, shake (not stir) and pour over ice.
7. Shochu Melon Citrus Cocktail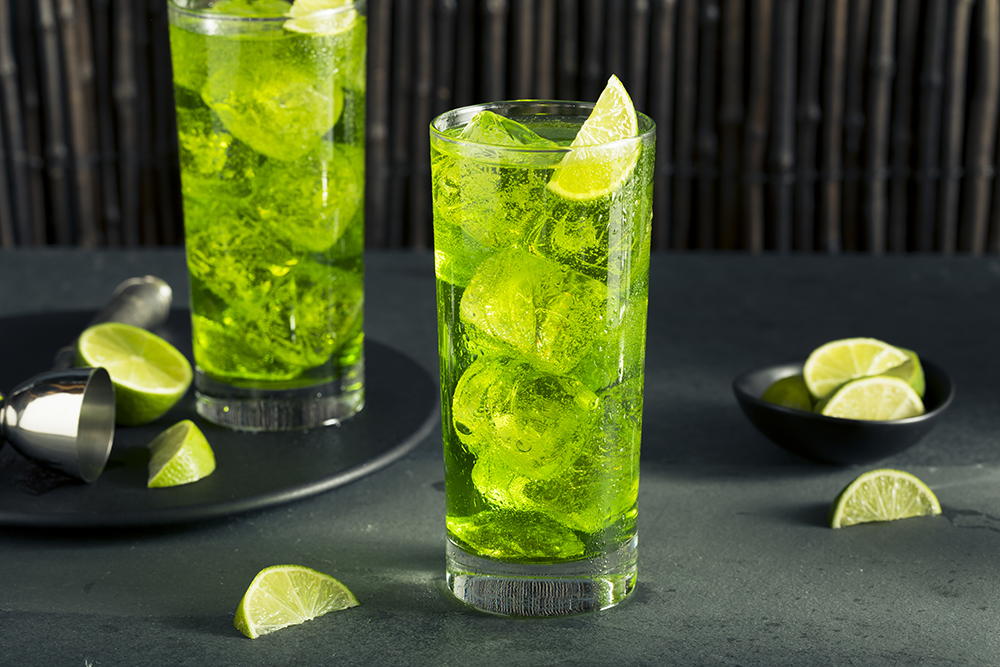 Shochu is a popular choice for Japanese cocktails because of its earthy taste and low calorie intake. Mixed in inventive ways, we love it with melon liqueur and a squeeze of lemon juice.
You'll need:
3 oz shochu
3 oz melon liqueur
Juice of one lemon
Combine all ingredients in a cocktail shaker with ice and shake well. Strain into a cocktail glass with ice to serve.
8. Raspberry Sake Tea Cocktail
Who doesn't love the sweet, savoury, acidic, bitter taste of sake? Its caramel-like fruity flavour works perfectly with raspberries, so this cocktail simply makes sense.
You'll need:
1 ½ litres of water
5 raspberry flavoured tea bags
¼ cup sugar
⅓ cup sake
In a pot, bring the water to a boil. Add tea bags and remove from heat. Allow to steep before removing the tea bags. Stir in sugar until dissolved and pour into a pitcher. Place in the fridge to cool before stirring in the sake. Pour over ice with some fresh raspberries as a garnish.
9. Lime Chu-Hai
Chu-Hai, traditionally made with Shochu (distilled from rice, barley, sweet potatoes, buckwheat and brown sugar) and often sold in cans in Japanese supermarkets, is essentially the Japanese version of a vodka, lime and soda.
You'll need:
2 oz Shochu
1 oz Lime Juice Cordial or fresh the juice of a fresh lime
Soda Water
Pour the shochu and lime over ice. Stir and fill the glass with soda water.
10. Tokyo Slipper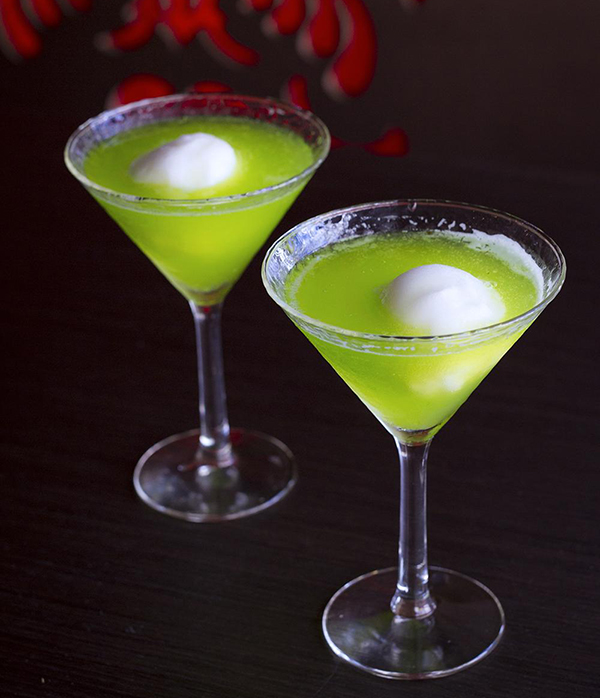 A perfect way to start any dining experience, this is Kobe Jones' take on the traditional Japanese Slipper. A tantalising mix of Midori, Yuzu-infused sake and pineapple juice, shaken and strained over yuzu sorbet.
You'll need:
30ml Midori
30ml Yuzu infused Sake (Yuzushu)
60ml Pineapple Juice
shaken and strained over Yuzu Sorbet (house made)
Add all the ingredients to a cocktail shaker with ice. Shake and strain into a large martini glass, over a scoop of Yuzu sorbet.
Cocktails with a twist
You'll never look at cocktails the same after trying any of these amazing Japanese artworks in a glass. Kobe Jones allows you to discover the exotic presentation and flavours of traditional Japanese beverages. If you'd prefer to leave the mixing to the professionals, make a reservation at your nearest Kobe Jones restaurant today.

Rate this article: