Besides being a potent source of nutrients and antioxidants, matcha tastes amazing when used in both traditional and non-traditional Japanese cuisine. Matcha literally translates to 'powdered tea', and is simply a fine, brilliantly-coloured green powder made by grinding up green tea leaves. Matcha powder is usually available in any health food shop or Asian supermarket.
At Kobe Jones, we love using matcha powder to bring the real taste of Japan to our dishes, so we've put together five delicious (and easy) matcha recipes that you might like to try at home.
Matcha Coconut Latte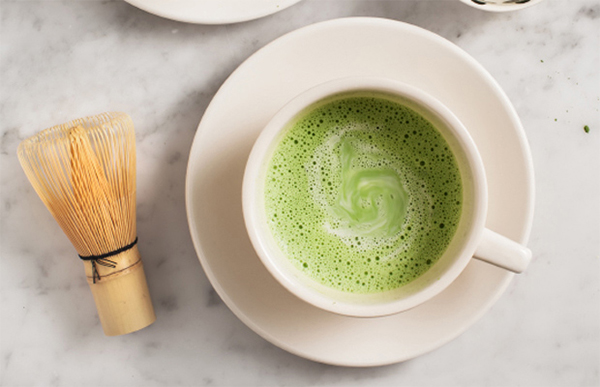 Image via Love and Lemons
Although winter is now well and truly over, there's still nothing better than a hot beverage on a chilly morning… Especially when it comes with as many health benefits as this beautiful and simple coconut matcha latte from Love and Lemons.
Ingredients
1 teaspoon of cooking grade matcha
¼ cup of hot water
¼ cup warmed coconut milk
Sweetener of your choice
Method
Sift your matcha powder so that it's lump-free.
Spoon the matcha into a large mug. Add the hot water and coconut milk and whisky briskly, in an up and down motion, until frothy – about 30 seconds or so.
Taste and add additional water, coconut milk and/or sweetener to your liking.
Healthy Matcha Green Tea and Coconut Fudge

Image via Desserts with Benefits
Continuing the health trend, this matcha green tea and coconut fudge from Desserts with Benefits is the perfect accompaniment to your latte, or to any kind of coffee or tea for that matter. It's made without the calorie-laden cream and butter and is also sugar-free, so it's better for your waistline but still an awesome 3pm pick-me-up.
Ingredients
4 cups of low-fat cottage cheese at room temperature
1 teaspoon of vanilla paste
2 ¼ cups of raw stevia
2 tablespoons of matcha powder
⅓ cup raw coconut butter, melted
¼ cup psyllium fibre
¾ cup reduced fat unsweetened shredded coconut
Method
Line an 8 inch brownie pan with parchment paper
In a high-speed blender, add the cottage cheese, vanilla paste, stevia and matcha powder. Puree until completely smooth.
While blending, pour in the melted coconut butter.
While blending, sprinkle in the psyllium husk. Scoop the mixture into the brownie tin and spread out to flatten. Place the pan in the freezer for two hours.
Slice the fudge into 36 squares and coat in shredded coconut before placing on a large serving plate.
Matcha Green Tea Mug Cake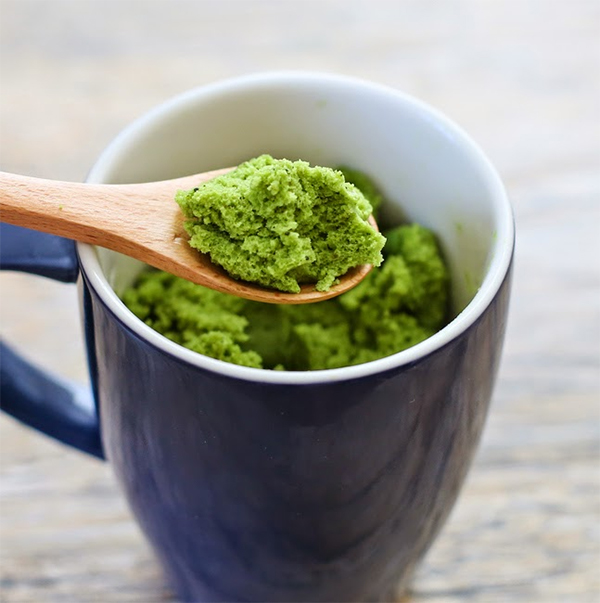 Image via Kirbie Cravings
Another great afternoon treat involving the delicious matcha powder, these mug cakes from Kirbie Cravings are super simple and easy to prepare. All you need is a couple of minutes and you'll have a fluffy, yummy snack packed with antioxidants and vitamins.
Ingredients
4 tablespoons of all-purpose flour
1 teaspoon of high-quality matcha powder
¼ teaspoon of baking powder
1 tablespoon of granulated white sugar
3 tablespoons of non-fat milk
½ tablespoon of vegetable oil
Method
In a microwave-safe mug, add the flour, matcha powder, baking powder and sugar. Whisk until evenly blended and no lumps remain. You need to be sure to break apart any lumps before adding the liquid.
Add in the milk and oil. Mix with a whisk until the batter is smooth, and then cook in the microwave on full power for a minute.
Allow to cool before eating.
Black Bean Burgers with Green Tea Basil Aioli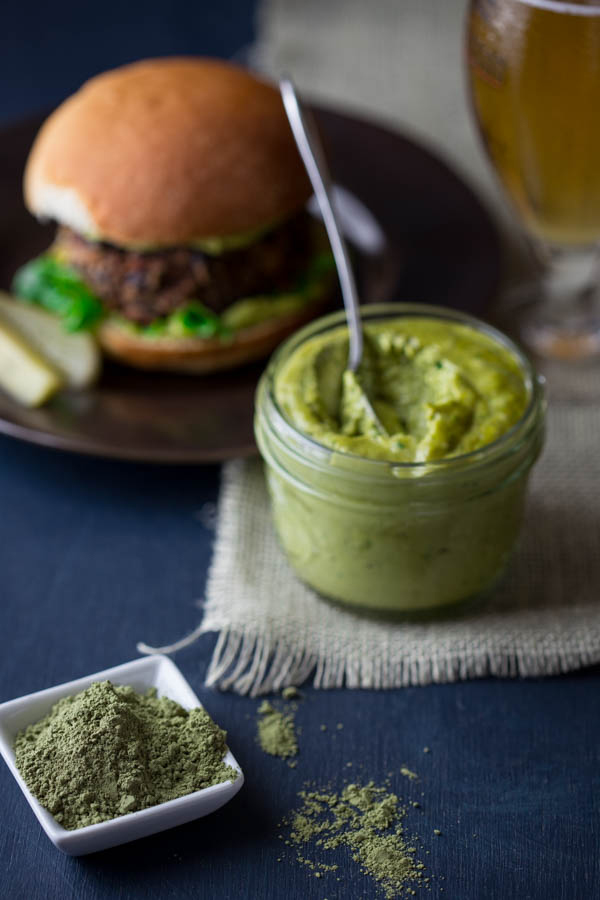 Image via Healthy Seasonal Recipes
As well as tasting absolutely incredible in desserts, matcha also works really well in savoury dishes, like as a condiment on the side of these black bean burgers from Healthy Seasonal Recipes. A great option for vegetarians, these burgers are packed full of protein to keep you full, as well as packing a nice hit of antioxidants from the green tea aioli.
Ingredients
For the burgers:
1 tablespoon of extra-virgin olive oil
1 small carrot, peeled and shredded
1 medium red onion, chopped
1 large clove of garlic, minced
½ a medium green pepper, diced
1 teaspoon of coarse kosher salt
1 15-ounce cans of black beans
½ cup of toasted pecans
2 eggs
½ cup of dry breadcrumbs
½ teaspoon of red pepper flakes
For the aioli:
10 large fresh basil leaves
4 cloves of garlic, peeled
4 egg yolks
4 teaspoons of lemon juice
1 tablespoon of matcha green tea powder
1 teaspoon of Dijon mustard
½ cup extra-virgin olive oil
Salt and pepper to taste
Method
Preheat your oven to 350 degrees and line a large baking tray with parchment.
Heat 1 tablespoon of oil in a large skillet. Add the carrot, onion, bell pepper and salt and cook, stirring for about 8 minutes.
Drain 1 can of black beans and transfer to a food processor. Add pecans and the vegetable mixture. Pulse until the mixture becomes a coarse paste. Drain the remaining cans of black beans and transfer to a large bowl. Add the pureed mixture and combine. Add the eggs, breadcrumbs and red pepper flakes and stir. Mound ½ a cup of the mixture into domes on the prepared baking sheet. Press lightly to flatten. Bake until completely dry and crisp, usually about 45 minutes.
For the aioli, puree the basil, garlic, yolks, lemon juice, matcha and Dijon in a food processor or blender. Gradually drizzle in the ½ cup of olive oil while the motor is running until the mixture is thick and smooth. Season with salt and pepper.
Serve the burgers with the aioli on your desired bun along with lettuce and tomato if desired.
Glow Green! Matcha Yoghurt Breakfast Bowl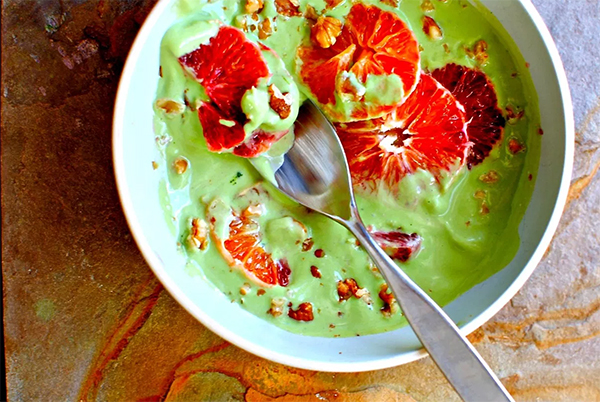 Image via Kellie's Food to Glow
One for the early birds amongst us, this Glow Green! Breakfast Bowl from Kellie's Food to Glow is sure to get your day started on the right foot. Combining the two powerhouses of green tea matcha powder and natural yoghurt, this smooth breakfast option is packed full of antioxidants and protein that's bound to keep you full until lunchtime.
Ingredients
150 – 200 millilitres of your choice of yoghurt
1 teaspoon of matcha green tea powder
Honey or maple syrup to taste
1 blood orange
A handful of walnuts, pecans or almonds
Method
Add the yoghurt to a mixing bowl or jug, and sprinkle over the matcha powder. Drizzle in a little honey or maple syrup to taste and then whisk thoroughly. Pour into a serving bowl and top with the sliced blood oranges and then the crumbled nuts of your choice. Eat immediately!
For an alternative option, you can have this dish as a dessert by layering some amaretti or gingersnap biscuits on top.
Sampling the beauty of matcha at Kobe Jones
Matcha is an amazingly versatile and beautiful traditional Japanese ingredient, and is used in a variety of dishes at Kobe Jones restaurants. Our 'Green Tea Salmon' dish is Petuna salmon that has been cold-smoked for six hours, before being marinated in green tea and served warm. We also use green tea in our desserts, such as in our 'Flaming Anko', where green tea creme brulee is flamed and caramelised before being served to your table, accompanied by red beans.

Interested in trying a Kobe Jones matcha dish? Then visit our restaurants at King Street Wharf and the Rocks in Sydney or on the Yarra in Melbourne's CBD now.

Rate this article: