While Australia  gets ready to celebrate Christmas by hanging up the stockings, putting up the lights, shopping up a storm and making room in the fridge for a giant turkey, around the world there are people taking a far different approach. In the Czech Republic, single women are getting ready to throw shoes to see if they will be wed. In Venezuela, the folk will be tying up their rollerskate laces to head to Mass. And in Japan, families are likely getting ready to tuck into a KFC dinner.
Christmas in Japan is not a traditional holiday, but like many Western practices, Japan has adopted it and given it its own twist. Most have decided to treat it as a more fancily-dressed Valentine's Day, a day in which lovers can celebrate their longing for one another.
Christmas in Japan is a new concept, only having been celebrated for a few decades. It's still not a religious holiday – as there are very few Christians living in Japan – and instead of celebrating the birth of Jesus on December 25th, the Japanese celebrate love and happiness on December 24th.
Westernised practices
While Japan has decided not to celebrate Christmas in the traditional Australian sense, it has adopted some practices that have today become mainstream. These include:
Gift giving
Just like Australians, the Japanese are rushing to the shops in order to find the perfect gifts for those they love. Some choose to buy only for their partner, but others will buy for all those close to them.
Decorations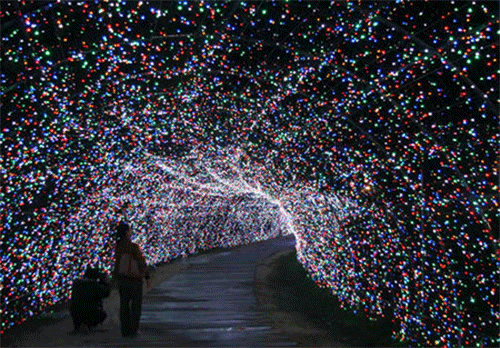 Nabana no Sato theme park, Image via My Modern Met
These days in Japan, Christmas decorations are up in just about every store and lights and baubles are strung on Christmas trees, just like in Oz. Christmas decorating has become a big thing in Japan, and some of the displays are nothing short of incredible. When the Japanese set their minds to something, they do it well, and it's not surprising to find giant Godzilla trees in shopping malls and jaw-dropping light displays. Check out the incredible display at Nabana no Sato theme park in Kuwana!
Christmas cards
The Japanese send Christmas cards as a way to say thanks to those that supported them throughout the year. Unlike Australia, however, this practice tends to be most popular with young adults and with work colleagues.
Christmas cake
As an Aussie, when you think of Christmas cake, you're likely thinking of a rich fruity cake topped with marzipan icing and a red and green piped trim. In Japan, Christmas cake is quite different, instead being a light sponge cake with whipped cream and strawberries. First sold in Japan in 1922, families everywhere now sit down to Christmas cake on Christmas Eve.
Dining out
Many Japanese couples choose to dine out on Christmas Eve, and bookings must be made long in advance. They then tuck into their fried chicken on Christmas Day – a tradition which grew out of a KFC advertising campaign.
Work parties and get togethers
The Japanese love celebrating, even when it's not a traditional holiday. Like their Western friends, they love to hold end-of-year work parties as well as host functions in which friends can gather to celebrate the festive season.
How to celebrate the Japanese way in Australia
If you want to enjoy Japanese this Christmas, Kobe Jones offers everything you need for a Christmas party or Christmas Day lunch. Set on the waterfront at either Sydney's King Street Wharf or Melbourne's Yarra River, Kobe Jones caters for a range of Christmas parties and corporate end-of-year functions, from sit-down banquet meals to festive cocktail parties.
When it comes to celebrations, the Japanese do it well, and dining at Kobe Jones is always festive, no matter the time of year. Our Teppanyaki restaurants house 12 cooking stations in both Wharf Teppanyaki and Riverside Teppanyaki, and each table can seat up to 50 people. Down at The Rocks, our teppanyaki offers an intimate private cocktail lounge and five private dining rooms for 8-16 people. No matter which restaurant you choose, it's a dining experience you can't find anywhere else in Australia.
If it's Christmas Day dining that tickles your fancy, our Kobe Jones restaurants are offering both lunch and dinner options. Menus include oysters, prawns, smoked salmon, roast pork, duck, crab, lobster, and traditional Christmas pudding with brandy sauce. And for a truly Japanese twist, there's sake on arrival.
A hassle free Christmas
Whether you're in Japan or Australia, Christmas should be hassle free and a time to relax with your loved ones. Rather than worrying about what you'll cook and how you'll organise everything in time, seriously consider a meal at one of Kobe Jones restaurants. The Kobes Jones name is renowned amongst lovers of fine Japanese cuisine, and we promise to bring the fun back into Christmas and give you a dining experience you won't forget.

Rate this article: