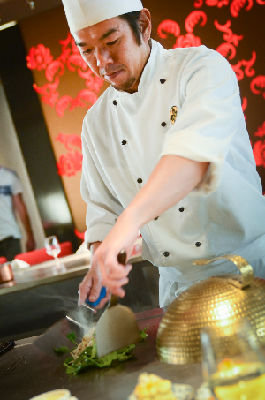 Sous Chef: Takehiro (Takeh) Hayashi
Takehiro was born in Gifu, Japan, in 1978 and came to Australia to study in the late 1990s. Fond of beach life and good restaurants by the beach, Takeh discovered his love of fusion cookery as a customer of Sands on Coogee Bistro, which at the time served a fusion of modern Australian, French and Japanese cuisine. Wasn't long before he threw his chef's hat in the ring and over the next few years completed his trade qualifications in commercial cookery. 
Takeh loves the fine art of teppanyaki cookery and continues to be inspired by Japanese fusion (French or Italian). On days off, he enjoys surfing at Bondi or the northern beaches, a few beers with his mates and a fine meal at Waqu (Crows Nest) or Porcorosso (Waterloo). Takeh hopes to one day open his own restaurant in Darlinghurst or Surry Hills, serving, as he puts it, "yummy modern Japanese" to inner city locals and visiting students and backpackers.
May 28, 2014
Posted in: Wharf